COLUMBIA'S PREMIER CONCERT & EVENTS VENUE
812 South High Street
Historic Columbia, Tennessee
DON'T MISS THESE HOLIDAY EVENTS!
And check out the full event listing below
CHECK OUT THIS SPECIAL SHOW
THE TENNESSEE FOUR
JANUARY 6, 2024
Featuring actual former Johnny Cash musicians, and Cash's grandson, THOMAS GABRIEL on vocals!
Also featuring:
MANUEL CUEVAS
(the man who originally dressed Cash in black) and
JESSELEE JONES
(the keeper of traditional country music in Nashville)
Post-show meet & greet available – every participant will leave with an autographed 11×17 poster, personally signed "to" them by The Tennessee Four as well as Manuel Cuevas and JesseLee Jones!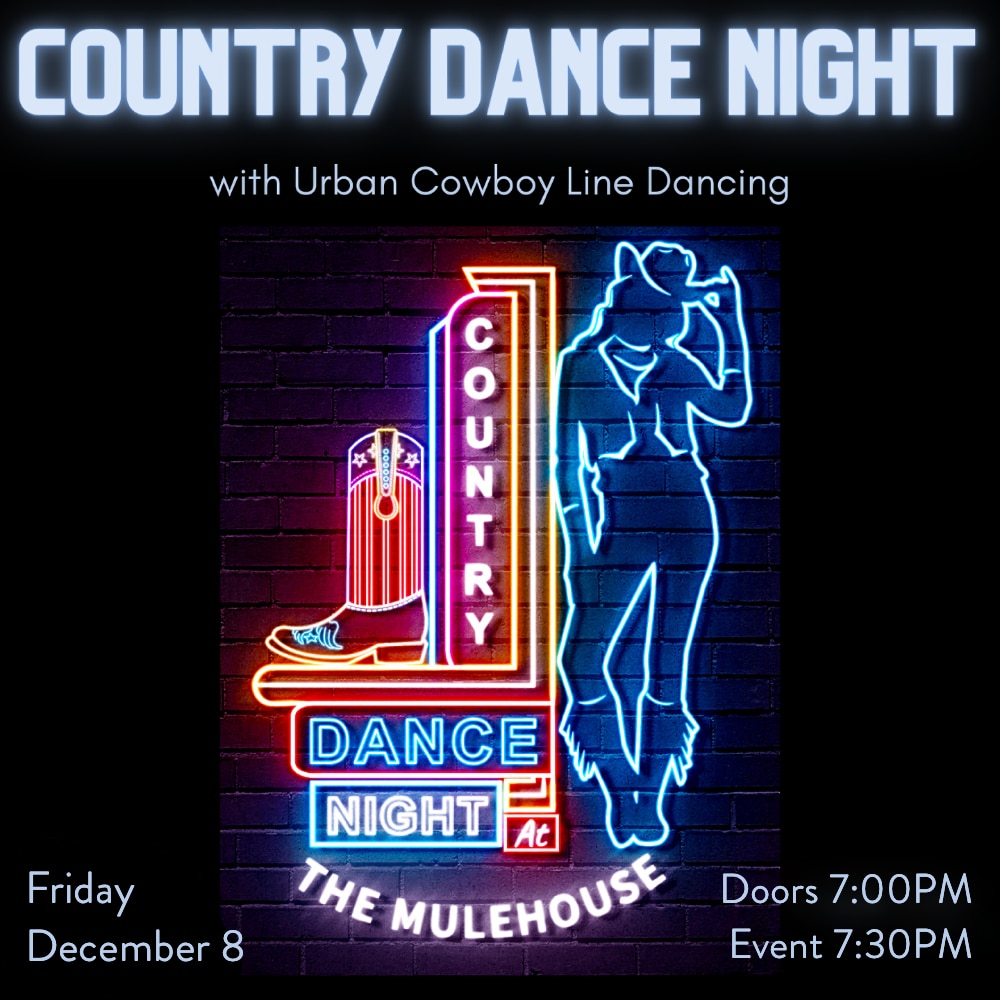 COUNTRY DANCE NIGHT
with Urban Cowboy Line Dancing
DECEMBER 8
DOORS: 7:00 PM
DANCING: 7:30 PM
Learn the latest new line dances with the Urban Cowboy Line Dancers – with a pre-show meet & greet with the guys also available! This is always a fun evening of learning, dancing and having a great time! Grab your friends and don't miss it!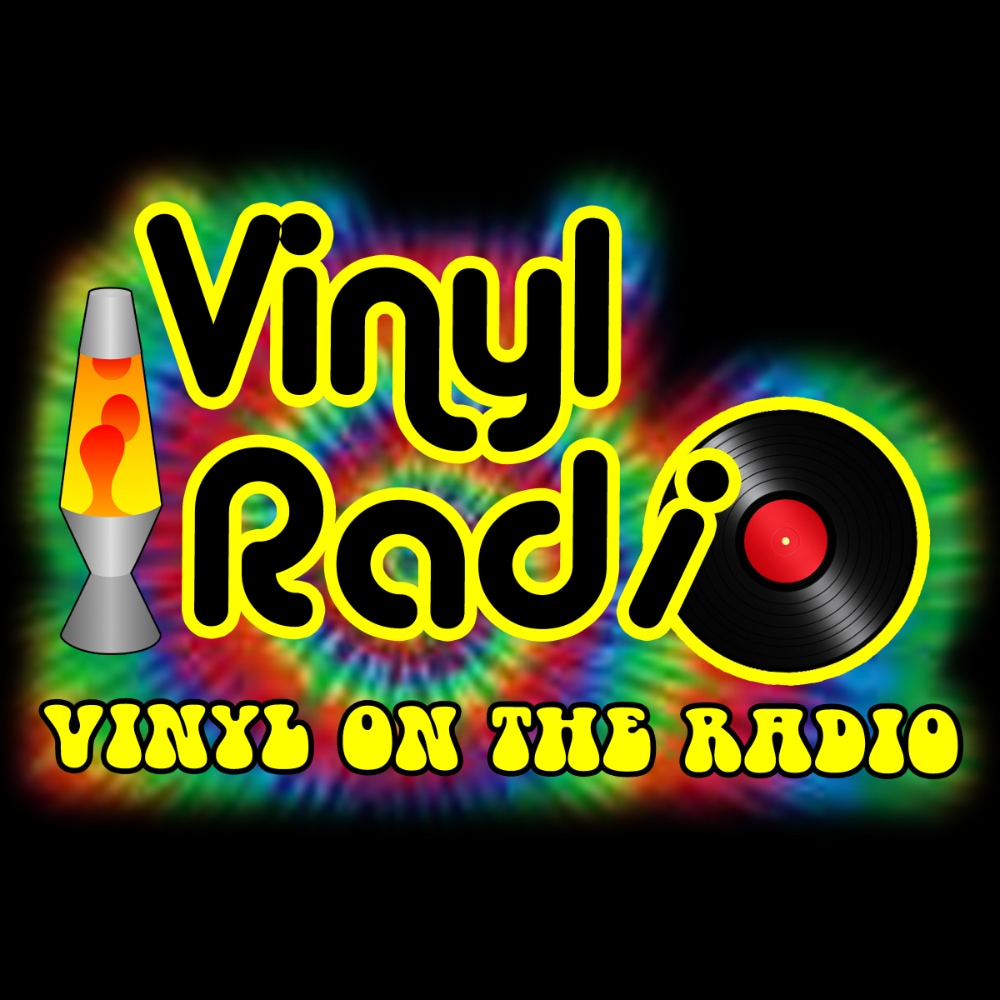 VINYL RADIO
70s Tribute • No Disco
DECEMBER 9
DOORS: 7:00 PM
SHOW: 8:00 PM
A tribute to the 70's (no disco) doing everything from Doobies, America, Seals and Crofts to CSNY, Bad Company, Aerosmith and more! "Bringing back Peace, Love and Vinyl"
Reserved seating and general admission standing / dancing available!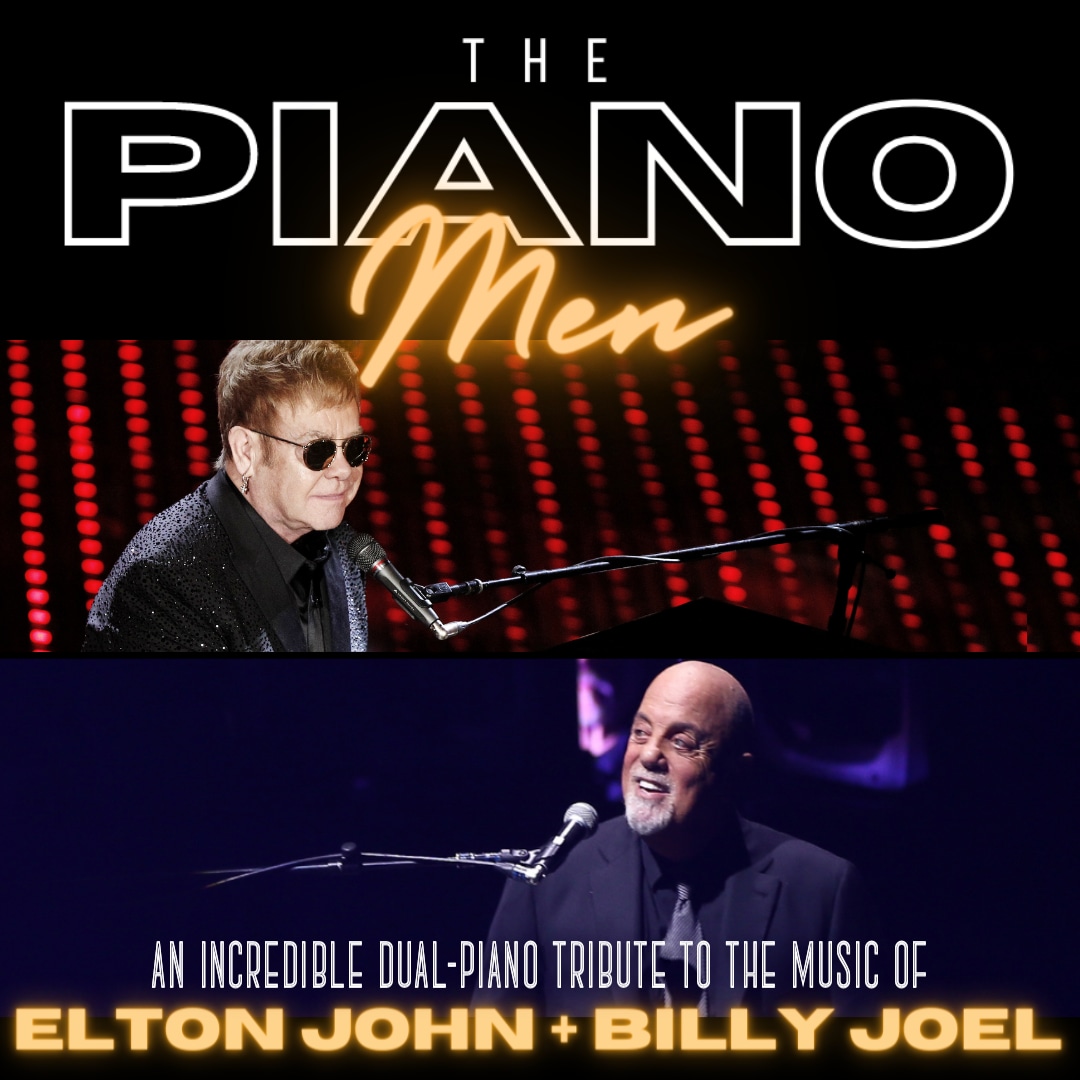 THE PIANO MEN
Tribute to Elton & Billy
DECEMBER 15
DOORS: 7:00 PM
SHOW: 8:00 PM
Join us for this incredible dual-piano tribute to the music of Elton John & Billy Joel. This 9-piece group will wow you with their arrangements and presentation of your favorite songs from the catalogs of these incredible artists!
FULL SCHEDULE
NEW SHOWS ADDED WEEKLY, SO KEEP AN EYE OUT RIGHT HERE
COUNTRY DANCE NIGHT • with Urban Cowboy Line Dancing
Meet & Greet available! Gather your friends and let's dance the night away, y'all!
VINYL RADIO • 70s Tribute – No Disco!
From Doobies, America, Seals & Crofts to CSNY, Bad Company, Aerosmith and more!
POINT OF GRACE • GLORIA The Christmas Tour
With very special guest, Mark Schultz and hosted by Andrew Greer
THE PIANO MEN • Dual-Piano Tribute to Elton John & Billy Joel
This 9-piece group will wow you with their arrangements of all your favorites!
CHRISTMAS W/ CRAIG WAYNE BOYD • Plus Special Guests!
Join us as CWB performs his favorite Christmas songs and some of his biggest hits, too!
PHOTOS WITH SANTA • Bring Your Kids & Pets!
We'll have hot chocolate for the kiddos, treats for your furry friends and spirits for the stressed out adults!
NEW YEAR'S EVE • Feat. Rubiks Groove
Dance into 2024 with this high energy show, complete 360 degree interactive experience
THE TENNESSEE FOUR • Feat. Thomas Gabriel
This band is comprised of original Johnny Cash musicians, featuring Johnny Cash's grandson on vocals!
END OF THE LINE • Allman Brothers Tribute Band
This band has a sound as classic and heavy as the original brothers themselves!
PRIVATE EVENT
Landmark Ceramics Banquet
LOOK NO FURTHER… YOU'VE FOUND THE RIGHT PLACE
We don't just do concerts!  The Mulehouse is a former church in an historic downtown Tennessee town, and makes for the perfect location to create your dream wedding, fantastic private and corporate events, photo and video shoots, and SO much more!
CORPORATE EVENTS
Our Dawson Hall is multi-functional, and can provide for all your corporate function needs, whether large or small.
PRIVATE PARTIES
Celebrating a birthday, graduation or any other exciting event? We have the right space to cater for all of your needs.
WEDDINGS
You've dreamed about this day, and we're here to make every single detail as perfect as it has been in your mind for so long!
CHARITY EVENTS
Raise funds for your charity or other benefit event and take advantage of our stage & other spaces to make your event pop!
PHOTO/VIDEO SHOOT
This gorgeous stage within the stunning stained glass of the old restored church building will provide so many iconic images!
The Mulehouse offers a range of sponsorship opportunities to fit your needs as a company, organization or non-profit. Contact Amy Fish here to learn about current packages available as well as customizable options.
Looking to perform at The Mulehouse? Submit your information using this button and we'll reach out if there is a fit!
GET EARLY TICKET ACCESS!
As a subscriber, you'll get early access to tickets before our official on-sale dates, and you'll be the first to know about all of our concerts and other events.
Whaddaya waiting for?!
In an indirect way, The Mulehouse in downtown Columbia owes its existence to a fictional Iowa cornfield.
"We built The Mulehouse without excuse and spared no expense," says owner Blair Garner. "Much like Field of Dreams, we felt that if you build it, they will come."
And after a seven million dollar renovation, patrons have been lining up to see name brand acts in the former First Baptist Church since its May of 2021 opening.
Garner's mission, for patrons and performers, is "to provide an experience that is so deep and so rich that it becomes a memory. People will go where they feel welcome and appreciated and they will want to return. Shortcuts never win."
The "no shortcuts" rule applies to The Mulehouse's technology. According to Garner, who is best known for his work as an acclaimed country music disc jockey, it is the first venue in America to be built around livestreaming and one of only two (Radio City Music Hall in New York is the other) that's entirely 4K video resolution. "We can serve music fans whether they are here in person or living in Norway," he says. "And the building is prewired for 8K so when that technology comes, we're ready for a plug-and-play transition."
The venue, which can accommodate up to 500 is a far cry from what Garner found when he acquired the building. The old church had been overrun by mold and it was home to many wild and stray animals. There were local conversations about leveling the structure and starting over. "For those in the community, it became painful to see a beloved building fall into disrepair," he
says. But in a short time, Garner, along with his husband, Eric, have turned it into a local treasure.
"I'm the visionary, the one who believes anything is possible," says Blair. "Eric is the numbers guy, analytical and pragmatic. He takes my vision and puts it into practical terms by which it can be achieved at a consistent level of quality. It's been important for us to crawl before we run."
Currently The Mulehouse occupies about half of the structure's 55,000 square feet. According to Garner, the next steps include building-out that space with a boutique hotel and restaurant. Not if, but when that happens, perhaps in the next year, he says it will be with partners who adhere to the same standards as the Garners.
CATCH US ON INSTAGRAM
Don't forget to tag us @themulehouse

"This is one of the nicest venues I've ever visited. Our band has done two video shoots and a concert at this location. The staff is top notch and a detail never falls through the cracks. Very thankful for all of the hard work from Amy F. and Geoffrey B.!!!"
S. Allen (Google)
"The best music venue in South of Nashville."
K. Nichols (Google)
"I love this venue. I highly recommend it to our couples. Beautiful decor, lighting, sound system for music is top of the line. Tracy is a great Event Coordinator and very helpful to our couples. Perfect Wedding and Elopement venue."
A. Alley (Wedding Planner • Facebook)
"I used the Mulehouse for a live comedy show taping and couldn't recommend them more. Geoffrey, Tracey, Amy – everyone goes above and beyond. I felt very well supported! The cameras are incredible – best around. Not to mention, the entire venue is SUPER spacious for artist/production teams. Loved it!"
C. Murphy (Google)
"The lounge is so unique and quaint and the venue is an intimate place to go for any type of concert! They did a great job rehabbing that old church!!"
D. Hoekstra (Facebook)
WOW! Tracy and the team made our wedding day an absolute dream! From the first tour to the big day the communication and attention to detail were unparalleled! Our guests were blown away by the gorgeous venue! The stained glass, exposed brick, and Nashville charm were the perfect combination we were looking for! The bar staff was upbeat and having just as much fun as the guests were which made the whole experience that much better!
S. Walls (Google)
My wife and I attended a Caroline Jones concert at the Mulehouse. The venue is attractive and intimate. The look and vibe is so inviting for a relaxing time. We loved the old church artifacts still evident in the refurbishment. It is a 3.5 hr drive for us, but we said that we will return to Columbia and Mulehouse for an extended weekend "date".

B. Goedde (Google)
We had an incredible event at the Mulehouse. Tracy, Brad and their team were so helpful in helping us accommodate food trucks, our guests, and production/ filming. The venue is beautifully renovated, the greenroom is perfectly set up and well thought out, and their team is so kind. Thanks for a great time!
A. Munn (Google)
Frequently Asked Questions
Where is The Mulehouse?
Set your GPS for 
812 South High St
, in downtown district of historic Columbia, TN – we'll have a cold beer waiting for you!
Where do I park?
Just head toward the back of our building, and you'll see our parking lot. If we're filled up by the time you get here, no problem — there's a lot of street parking. We'd just ask that you keep the noise level down. We're all about being good neighbors.
Do you have a bar?
Yes, we have multiple bars. Doesn't matter whether you're on the main floor of the theater or up in the balcony, our satellite bars have you covered.
If you want the full bar, head to our downstairs lounge. We're fully stocked if you're in the mood for something a little stronger.
What type of payment does The Mulehouse accept?
Bring your plastic, because we're a cashless venue. We're good with Visa, MasterCard, Discover, and American Express.
Exxon, Home Depot, and Kroger cards won't make the cut.
What is not allowed in the venue?
Bad attitudes. Rude behavior. Small minds.
Aside from that, the usual stuff: alcohol, drugs, guns or weapons of any kind, outside food or beverages.
What is your bag policy?
Any bag larger than a 12" x 12" x 6" has to stay in your ride. We suggest bringing in a small purse or clutch — which may feel a little odd for some of the guys, but whatever you're into. You do you.
Can I bring my camera into the show?
Everybody's got a camera on their phone, and we're totally cool with that. Do us a favor though, and turn off the flash and tag us on socials, @themulehouse!
As for those cameras with detachable lenses, those won't fly without approved media credentials.
Occasionally though, some performers don't want any cameras, phones or otherwise. When that happens, we're always going to honor their request.
Is there seating available for shows?
If you're up in the balcony, you'll find some of our original pews where you can take a load off.
Down on the main floor, it really depends on the kind of show you're joining us for. Some shows will have assigned table seating, some will have assigned seats, or they might even be standing room only. Just look on our event page for that particular show. It's all detailed there.
How can I purchase tickets to shows at The Mulehouse?
There are a few options for you:
Purchase them from us on this website, through SeeTickets – just click the button for the show you want to attend.
If the show's not sold out, you can get them at the door. But don't forget, we're credit card only. Leave the Benjamins in your pocket.
I lost my ticket info. Can you help?
If you bought it from our ticketing partner SeeTickets, or from us directly, you've got nothing to worry about.  
Just hit up our box office on the day of the show with your ID and the credit card you used to buy the ticket with. We'll do our best to get you taken care of. Another good plan would be to email our ticking company at help@seetickets.us in advance.
I bought my ticket from a ticket reseller like Stubhub or Vivid Seats, is that okay?
This is a tough one — Sometimes it all works out okay — but sometimes it doesn't.
We're always on your side, but if you didn't get the ticket from us or SeeTickets directly, it gets pretty dicey. The problem is that we have no way to vouch for the legitimacy of any tickets sold by a reseller until they are actually scanned as you come in for the show.
If your ticket turns out to be fake, you have every reason to be disappointed. Let's just call it what it is: A very sucky situation.
While we'd love to turn it into a happy ending, we just can't do that. Somebody else has already bought a legitimate ticket, and if they're not seated already, they will be shortly.
So the bottom line is that purchasing tickets from any source other than SeeTickets or Lyte is at your own risk.
I require ADA seating – how do I get in touch?
First of all, we are so glad you'll be coming to the show. We've spent a lot of time trying to ensure that those who need ADA seating have the best possible experience. 
When selecting your ticket, look for the seats listed as ADA then when you get to the show, we'll be glad to help you to your seat.
Any other questions before the show? Catch us at info@themulehouse.com.
Can I upgrade my ticket?
We, along with our business partner 
Lyte
 are committed to providing a safe marketplace to buy and sell your official tickets to our shows. This network will help you find other tickets available for upgrade. 
Do you rent out The Mulehouse?
Absolutely! Our main focus is creating unique experiences for our guests and that includes your private events. Please reach out HERE.